2013.12.20: Kinoko Teikoku @ Shibuya Tower Records + group_inou @ Shibuya Club Asia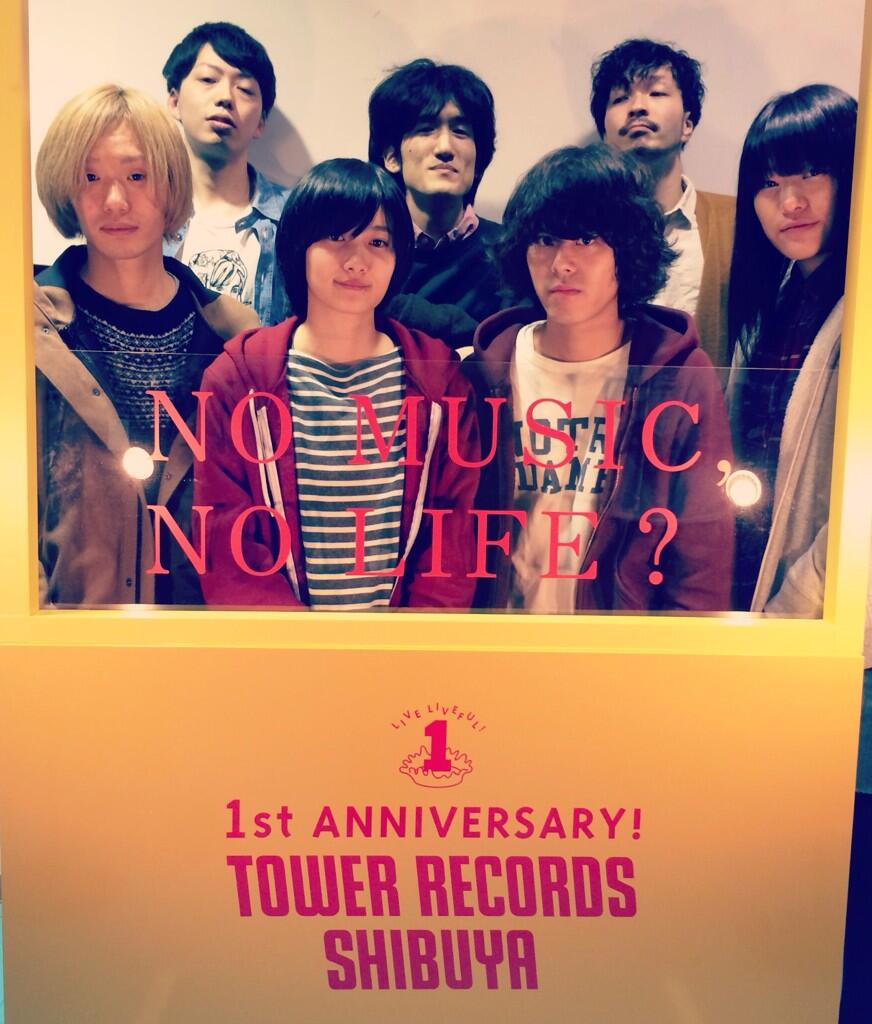 Kinoko Teikoku recently released a new ep entitled "Long Goodbye" so they held an in-store live at Shibuya Tower Records on Dec 20 with Daizawa Records label mates paionia. Access to the event was obtained by purchasing either Kinoko Teikoku or paionia's new CD at Tower Records. Bad news: all the CDs with event tickets were sold out. Good news: I asked Chiaki Sato (Kinoko's frontwoman) if she could sneak me, Jess, Rob and Sharon on the guest list and she said… yes!
In Shinjuku and most other Tower Records the in-store performances are usually held within the actual store where the CDs are sold. Therefore, the bands are often restricted in how loudly they can play and oftentimes they perform acoustic sets. However, Shibuya Tower Records has a dedicated stage and floorspace in the basement which is set up like an actual livehouse minus the bar and alcohol. I estimated capacity of the room to be about 300 people and the place was packed.
Since paionia were up first we decided to stay near the back and make our way closer or at least try to when Kinoko Teikoku took the stage. Paionia played a variety of styles from angst-ridden emo to Weezer-esque emo to psychedelic acid-jazz to punk. The singer had a very powerful voice and the guitars were above average but overall they were a bit too generic for my tastes. However, they deserved a much better reaction from the crowd since paionia gave it their all on-stage and I assume at least some of the audience had come to see them as opposed to Kinoko Teikoku. The crowd was pretty lifeless and we North Americans tried to make some noise for paionia who were trying their best to put on a good show.
Paionia played roughly a 30min set and when Kinoko Teikoku took over the stage we tried to get as close as possible but could only stake some territory near the middle. We decided as a group that we would jump, dance and make as much noise as we possible. During NMFT, the song that got the audience moving the most was "国道スロープ" (kokudō slope). We figured we would make a mini mosh pit for that… assuming they played it. During sound check you could hear the songs they were likely to play and Chiaki Sato played a refrain from "国道スロープ" which gave us some reassurance. (Although Kon-chan played the drumline to "Eureka" and they never ended up performing that.)
So Kinoko Teikoku disappear for a bit and re-entered the stage with mouse on the keys' "最後の晩餐" playing in the background. They gear up and the first song they play is "国道スロープ" !! What?! C'mon, give us some time to warm up before we can start our mini-mosh pit. hahaha! Oh well. We jumped and made boisterous fools out of ourselves but not to the point of moshing.
Here is the setlist:
The third song "海と花束" (Umi to hanataba = The sea and a bouquet of flowers) is a fantastic song off the new ep that they first played in Vancouver at the Rickshaw Theatre during NMFT5. The PV for it is simple yet breathtaking, especially the surprise at the 2:15 mark:
The fourth song "パラノイドパレード" (Paranoid Parade) is a song about harafromhell's singer Tatejima Yoko. Isn't that crazy?! Kinoko Teikoku and harafromhell become best friends during the NMFT5 tour and Chiaki Sato writes a song inspired by the zany antics and fashion sense of Tatejima Yoko. It's pretty awesome to know that the NMFT tour can influence bands' songwriting. チーナ's song "Granville Island Market" is another example.
Kinoko Teikoku played a fantastic set. I thought the acoustics of the room were solid but Rob and the girls felt the sound level could have been much louder. And the crowd didn't get much livelier for Kinoko Teikoku vs paionia except for us three Canadians and one American who made more noise than half the audience.
After Kinoko's main set we all clapped for an encore and the band returned to play:
1. 春と修羅 (haru to shura) 2. 明日にはすべてが終わるとして
"Haru to Shura" is a song that I requested Kinoko Teikoku play in Toronto because it is my friend Midori's favourite song by them. It's lyrics are pretty violent with the opening line "How should I kill that person?" Most people experience a time when they are so incredibly pissed off at a person that they visualize murdering that person in their head but never actually go about carrying it out. That's what this song is about and Midori loves this song because she heard it at a time when she wanted to strangle her roommate (not me by the way!). I requested this song in Toronto for Midori's sake but I think Chiaki Sato thinks it's actually my favourite song which is why they picked this obscure song to play during the encore at Tower Records. Sharon and I know most of the lyrics to this song and we sang along as loudly as possible: "彼奴を… どう遣って… 殺して遣ろうか?!!" And for a 2nd encore they played the sublimely melodic "明日にはすべてが終わるとして"
It was a superb show and as the crowd piled out we chatted with Hiromi Kamiya, Kinoko Teikoku's soundwoman who accompanied the band during NMFT5. She helped us get backstage where we got to meet and chat with Chiaki, A-chan, Kon-chan and Shige aka Kinoko Teikoku. Sharon did a 2 mos language exchange program in Tokyo earlier this summer and became super-good friends with チーナ and Kinoko Teikoku. So Chiaki and A-chan were super stoked to see Sharon again. Jessica was pleasantly surprised that Kinoko Teikoku still remembered her and Rob's pretty hard to forget as the white dude who filmed everything. hahaha. To commemorate this great show and reunion between Kinoko Teikoku and their N American posse we took a photo:
------------------------------------------------------------------------------------------------------------------
However.. that was only part one of the music festivities. We still had group_inou to watch at…. 3am. Since it was just ~9pm after the Kinoko Teikoku Tower Records event we decided to get something to eat and guess who we bump into on the street:
group_inou and Urayama Gaku! We chatted for a bit, told them how much we were looking forward to the show and soldiered onwards to find a decent place to eat.
Rob had just arrived in Tokyo hours ago from Sapporo, Hokkaido where soup curry is a local speciality. My first time trying soup curry was at Magic Spice in Shimokitazawa when Shige (bassist) and Kon-chan (drummer) of Kinoko Teikoku treated me to dinner in July. Since both Rob and I love soup curry we decided to try out a soup curry place we serendipitously found walking down Shibuya's Dogenzaka hill.
The spiciness level goes from 1 to 40. I was willing to try 20 but the waitress heavily dissuaded me from doing so and I went with level 10 instead. It had a kick to it but wasn't hurtfully spicy at all. I'm sure I can handle at least 30, probably even the max given I've had the Hokkyoku ramen at Nakamoto.
Sharon went with level one and thought it was too spicy. That is frightening. I would not want to be born with her sensitive stomach and taste buds since it would mean goodbye to 70% of the foods I normally love to eat.
I thought the broth was quite tasty but apparently in Hokkaido the soup curry is exponentially better because the vegetables and meats there are otherworldly and you get about twice the volume of food for the same price. Plus there are dozens of soup curry joints concentrated within a few blocks in Sapporo leading to fierce competition, one-upmanship and improved quality control. According to Rob soup curry in Tokyo is decent but nowhere near as good in terms of taste or value.
We decided to head back to our hotels and rest up before reconvening in front of the Hachiko Crossing Starbucks at 230am. Even though Toronto is much colder, Tokyo felt uncharacteristically frigid at 2 deg Celsius. We hiked up Dogenzaka hill and made our way to Club Asia. Luckily there wasn't much of a line-up to get in.
Club Asia is made up of three dance areas. As soon as you walk in there's a small room holding ~150 people with a bar and DJ booth in the middle. This connects to a larger room with a stage and video monitors that holds ~300. Finally there's a small dance area upstairs for ~100 people to chill or get busy.
It seemed like every girl in the club was wearing sexy Santa costumes. No complaints from me. Back in the day… very rarely… I used to go clubbing. Not because I particularly enjoyed it but almost all my friends would hold birthday dinners and then go clubbing afterwards and sometimes I couldn't come up with an intelligent enough excuse to skip out on a night of overpriced drinks, muscle heads, skanks and shitty R&B/Hip Hop. I actually like underground hip hop (Binary Star, J-Zone) and mainstream groups like A Tribe Called Quest and Wu Tang but clubs in TO and Vancity all seem to play the same generic beats. Apparently there's an unwritten law that this song needs to be played every ninety minutes in clubs in Canada. Surprisingly, at Club Asia I found the DJs to play pretty decent music mixing an eclectic variety of obscure and classic songs by primarily N American and European artists. Not much Japanese music gets played though it may depend on the DJ.
group_inou were supposed to go on at 3am but didn't hit the stage until 330h. They played a 40 min set and I can't remember all the songs nor the order but they did play R.I.P, QUEST, THERAPY, COMING OUT, Orientation, MYSTERY, S.O.S and finished off with Knuckle. This was the first time I saw them do a set without playing the song that gets the crowd amped the most:
Watching group_inou without "MAYBE" is like watching nisennenmondai play a set without "Mirrorball." It's good when bands update their sets with newer songs but it's like having your best friend move away to another country when they remove one of your favourite songs that they normally play every time.
Anyhow the crowd was ballistic. Especially Rob. I've never seen him go crazy at a show before. Hahaha. And although they didn't play "Maybe" I wash't too disappointed because my favourite group_inou song is actually "QUEST" I think they might have performed "PR" which they rarely play anymore but I'm writing this review two weeks later and I can't remember for sure.
cp must have had three red bull & vodkas before coming on because he was completely wired, dancing and jumping across the entire stage. And Imai switched between calm and collect and full-on grand mal seizures. It was Sharon and Jessica's first time seeing group_inou and they seemed to dig the energy of the show. Before group_inou came on we actually ran into Utagawa Nao, Akai Koen's drummer. It's too bad she had to leave just before group_inou's set because it would have been a trip to see Nao bug out to _inou's music.
After group_inou's set we didn't stick around Club Asia for much longer but Sharon had a craving for a dessert she saw earlier in the night on the way to Tower Records consisting of half a loaf of bread toasted, slathered in honey and filled with ice cream, creme fraiche, fruits and chocolate:
It tasted really good. We weren't able to sleep for another 2 days. I'm pretty sure I now have diabetes. But hey... YOLO.